WASHINGTON METRO 3.1 VERSION IS AVAILABLE

The new version of Washington Metro application takes advantage of iPhone / iPod Touch OS 3.1 features.
- The application is fully compatible with Google Map. It is now possible to locate the nearest stations from your position on Google Map within the application, each station is represented by a red pin, a popup shows you the distance of localization for each station, and it's updated live via GPS as you walk in the streets of Washington!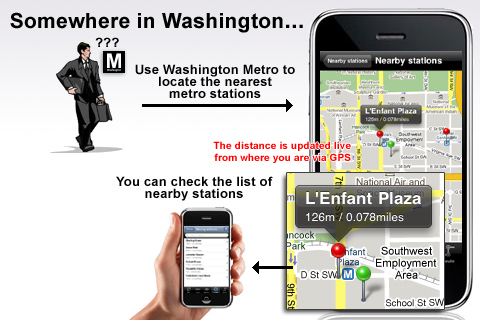 - It is now possible to add new Point of Interest (POI) databases to Washington Metro application via in-app purchase. These options allow you to activate Fast Food POI, Restaurants POI, Coffee, Pastry & Ice Cream POI, Leisure POI and Accommodation POI in Washington. You will be able to locate all nearby POI on Google Map.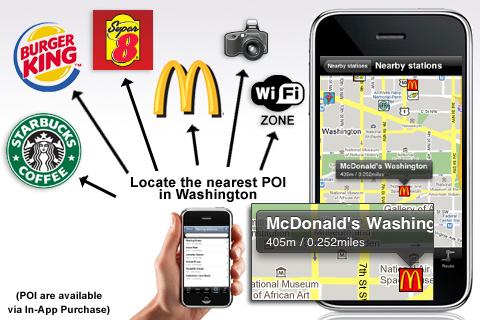 - Washington Metro Your New Eye. This new update features a unique augmented reality functionality (only available to Apple iPhone 3GS users) that enables you to see the nearest stations and POI! Elements located at a distance less than 1km (0,621miles) only will be displayed.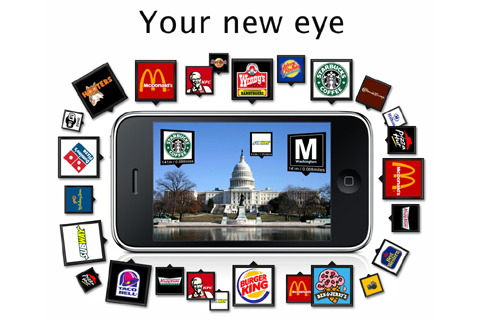 DESCRIPTION

Washington Metro iPhone and iPod Touch Application is a comprehensive guide to traveling through Washington, DC.
- Detailed map of Washington subway. Landscape and portrait modes are available.

- Detailed map of most lines in Washington.

- Precise location of each station on the map (with a red circle), and also on Google Map.

- A bookmark manager allows you to save your stations and routes.

- The trip planner tool allows you to find automatically the best route to get to your destination in Washington Metro. Travel time is also estimated. To get better Route results, please switch into Best Route in the settings of the application.

- Interactive map to choose your stations for the route.

- The route planner included in this application does not require a network connection to operate.

- The application locates the nearest stations from your position in Washington. It is possible to increase or decrease the distance of localization in the settings.

- You can provide an address in Washington, the application indicates the stations closest to that address.

- Service Advisories (Live travel news) from Washington Metropolitan Area Transit Authority is available.

- The application is available in English, French, Spanish, Deutsch and Japanese.

- Updates already in work for this application.
Skyhook Wireless, provider of the Wi-Fi Positioning System (WPS) on both iPhone and iPod touch, has chosen this application engine as a case study of interesting location based applications.
Thank you for taking the time to report any bugs or to request an enhancement to Washington Metro application. Feedback is very important to us. We will do our best to answer queries. Email us at



Download Washington Metro Application for iPhone and iPod Touch